Harding High School


Class Of 1960
In Memory
Mary Beth Broadstreet (Mathews)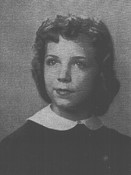 Mary Mary Elizabeth (Broadstreet) Matthews, 63, lost a hard fought
strugg s
truggle and went to be with our Lord on
June 10, 2005
. She
was b was born
January 31, 1942 to Frank and Louise Broadstreet.
She w She was preceded
in death by her husband Eugene and
and s survived by 2 sons Mike and Phil,
her only brother Frank,
grand grandson Anthony and favorite cousins, nieces
and nephews.
Servic Services were at 10:00 AM Wed, at
Memorial
Park
Cemetery.