Harding High School


Class Of 1960
In Memory
Steve Hixon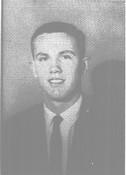 Steve was born May 20, 1942 in Oklahoma City, the son of Fay Edward and Anna Lee (Nunn) Hixon. He passed away peacefully at his home early Friday morning, February 3, 2012.
Steve attended public schools in Oklahoma City, graduating from Harding High School in 1960. He later attended the University of Oklahoma before beginning a career with JCPenney. Steve quickly became recognized as one of JCPenney's best employees and his success with them continued throughout his 35 years of service, retiring in 1997. Beginning as a salesman, Steve rose through the company to work in Oklahoma and Texas in stores and on the district staff. He completed his career as the store manager in Chickasha. Steve was recognized with several awards including the JCP Chairman's Award and awards for store and District leadership.
After his retirement, Steve was free to pursue his lifelong love of golf. A gifted player since his youth, he devoted much of his leisure time to improving his game, and enjoyed sharing the game with family and friends locally and across the country. If he wasn't playing golf, Steve was talking golf, watching golf or teaching golf. Most recently Steve was an active member of The Trails Golf Club of Norman. He valued his friendship with his golfing buddies. His favorite buddy and students was his son Steve.
Other sports were also important to him. Steve coached his son's Little League baseball team in Tulsa. Steve also enjoyed OU sports, regularly attending games in football, women's basketball and softball, and men's basketball. He talked sports with anyone who was interested.
He was a devoted son to his mother visiting daily for coffee and talking TV programs to watch each day. He loved every member of his family. Steve had a kind heart and was always willing to help where needed. He will be missed but will live in our hearts forever.
Survivors include his wife of nearly 45 years, Judy of the home; his mother, Mrs. Anna Lee Hixon of Norman; son, Steve E. Hixon of Norman; brother, George Hixon and wife, Beth of Tulsa; sister-in-law, Dana Simpson of Midwest City; uncle, Manuel Goodman of Denver, Colorado; cousin, Bruce Goodman and wife, Carol of Boulder, Colorado; and nephew, John Hixon and his wife, Anna of Lewisville, Texas.
He was preceded in death by his father, Fay E. Hixon on January 22, 1995 and his aunt, Mary Frances "Tanny" Goodman.