Harding High School


Class Of 1960
In Memory
Mount Morris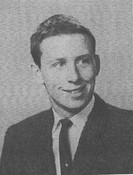 Mount
E. Morris Jr.
passed away in March, 1973 due to cancer. He was born in Dallas, Texas but moved to Oklahoma City at the age of two. He was a district sales representative for Rockwell Manufacturing Corp. and a free-lance reporter and photographer for KOCO-TV. He was a member of the Roadrunner Camping Club and Central Presbyterian Church. He was a 1966 graduate of the Oklahoma City University School of Business. He was
survived
by his wife, Joyce Ann Morris; and 2 children,
Mount
Morris
Jr.
and Heather Angel Morris.