Harding High School


Class Of 1960
In Memory
Doyle Wall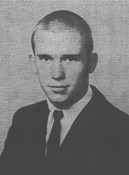 Doyle Dee Wall was born December 1, 1941 in Cordell, Oklahoma and passed away September 21, 2008. Doyle graduated from Harding High School in 1960 and then served in the United States Navy
He worked as a truck driver for Roadway Express until a series of strokes left him unable to work. Doyle enjoyed fishing and going camping with his family.
He was preceded in death by
his in-laws, Mr. and Mrs.
Raymond Kirkpatrick. He is
survived by his wife, Linda Wall,
daughter and son-in-law,
Lisa and Pete Haskin, grandsons,
Colton
and Collin Ray
Haskin, and sister-in-law, Troye Maggard.
Doyle was loved
very much and will be greatly missed.
Memorial services
2:00 pm
,
Sunday, September 28, 2008
,
at the home of
Lisa Haskin.