Harding High School


Class Of 1960
In Memory
John Flood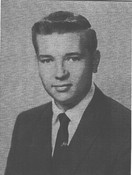 John Flood passed away on March 6, 1994, after a courageous battle with cancer. John will be greatly missed by his family and many friends. We remember John for his love of life, tennis, golf, hunting, fishing, and being with his special buddies.
John was born August 3, 1942, to John and Evelyn Flood. He graduated from Harding High School, attended the University of Oklahoma, graduating from Okla. City University. John was a member of the U.S. Army Reserves and Kappa Alpha Fraternity. John entered into business with his mother and father, being a part of Flood and Associates. John was an extraordinary sales and marketing professional, receiving many honors and awards from his peers. His extensive business travel allowed him to develop many lasting and personal relationships.
John and Linda were married May 17, 1969, and resided in Okla. City for all of their 25 years of marriage. John and Linda shared many wonderful times together, special trips here in the states and abroad, ski trips, and their common love of golf.
John took particular interest in the All Sports Association, serving on the Board of Directors. He was a member of Quail Creek Golf and Country Club, serving on numerous committees. He was also a supporter of Okla. University and Okla. City University Athletics. John was a member of the OCU Athletic Council. John served on the Board of Directors of the Texas Association of Candy and Tobacco Distributors.
John was a very spiritual person, and his faith and courage over the last five months will serve as a source of strength to his family and many friends. John was a proud member of the United Methodist Church of the Servant.
John was preceded in death by his father, John E. Flood. Survivors include his wife, Linda; mother, Evelyn; sister and brother-in-law, Kay and John Love; niece, Kelly Love and nephew, David Love.