Harding High School


Class Of 1960
In Memory
Ellen Kay Hesson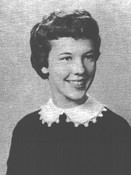 Ellen Kay (Hesson) Cox, passed away in Iowa City, Iowa, in 1973, at the age of 30.
Ellen was born in San Antonio, Texas, and came to Oklahoma City as a child, where she attended Horace Mann Elementary with many of us, and of course, Harding. She earned bachelor's and master's degrees from OSU, where she was a member of Kappa Delta and Mortar Board. Ellen was a teacher in the public schools of Iowa City at the time of her untimely death.
She was survived by her husband, Robert, and a son, Brian, of the home.