Harding High School


Class Of 1960
In Memory
Frank McKane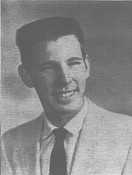 Frank passed away in 2007.
Frank attended college at OSU and then joined the Army in 1963, where he served in the Special Forces. Frank married for the first time in 1963, and his wife and he had two children, Mark, born in 1964 and a daughter born in 1970. After leaving the Army Frank worked at various jobs, until he got is Commerical Pilot's License. He then worked as a pilot for several years, until he started a career as a drilling engineer, in the Gulf of Mexico, Alaska, Central and South American and stateside. After the oil bust in 1982 he went back to school seriously. He got a BS in Computer Science and Psychology at East Central, and Master of Science in Clinical Psychology there and a Ph.D. in Instrucitonal Psychology and Technology from OU. In 2000 he was director of the Center for Study of Literacy and the Oklahoma Literacy Clearinghouse at NSU in Tahlaquah.
Frank married Margie in 1993. She is a special education instructor in Stillwelll, Oklahoma. They lived on top of Griffin Mountain in the middle of Lake Tenkiller, just outside of Cookson, Oklahoma.