Harding High School


Class Of 1960
In Memory
Ralph Van Horn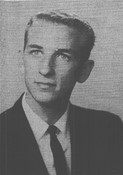 Ralph Van Horn married Donna Bradley (Harding HS, 1962) in 1962. They had three children, Kevin, Terri, and Vicki. Donna passed away in 2004, and Ralph in 2008.
After attending OSU and UCO, Ralph graduated from OCU with a degree in accounting, He worked for Amoco Oil in Oklahoma city and Tulsa for five years, for King Resources in Denver for one year, and then for American Airlines/Sabre in Tulsa for 30 years.
Ralph was particularly proud of his two grandchildren. They are the children of his daughter Vicki and her husband, Patrick Magness. Both of the grandkids were class officers in their school in The Colony, Texas, and both are straright-A students. His granddaughter, at the age of 13 years, was named State of Texas Female Athlete of the Year by the Texas Amateru Athletic Federation (TAAF). She participates in several sports and excels in swimming and soccer. The TAAF represents about 15 summer sports for ages 8-18.
Ralph had two brothers who also graduated from Harding: Bob (Harding '61) and Steve (harding '66).